Is it time for a vacation where you can just escape life's quick pace and relax amidst soft, white sands, sun-kissed skies and blue lagoons? If so, there are several idyllic places where you can do just that and lounge the day away, completely carefree. Get ready to stroll the uncrowded beaches, explore the region by land, or engage in some of the area's friendly cultural events in each of the following amazing island destinations.
Discover the Cook Islands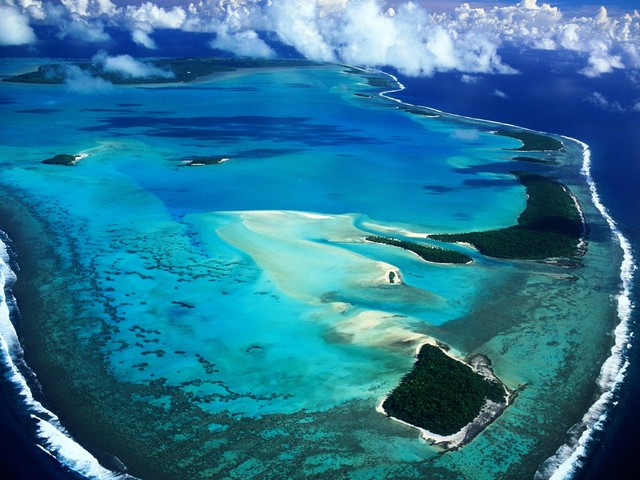 Nestled between Hawaii and New Zealand, the fifteen Cook Islands offer a tranquil slice of paradise where charm and beauty have been untouched. They are the best kept secret of the Pacific. Throughout the islands, you'll find a wide array of magical resorts that are fragrant with hibiscus and frangipani gardens, just feet away from swaying coconut palms and picturesque lagoons. From the overwater bungalows, you can just dive right off the sundecks into the turquoise waters. Many of the resorts offer complimentary kayaks, snorkelling gear and windsurfers. You can also book tours for lagoon cruises and deep sea fishing.
The south coast of Rarotonga has miles of sparkling beaches from the village of Titkaveka to Vaima'anga. It's a quiet area where you rent out small bungalows and enjoy some excellent beachfront restaurants. Dive into the Polynesian culture with traditional drum and dance shows right on the beach. Take a cool swim in the blue lagoon or head out to snorkel the best reefs on the island. On Atiu Island, you can explore the Anatakitaki Caves. These caverns are an impressive sight, featuring huge limestone stalactites that sparkle in the light. Enjoy a delightful swim in the candlelit artesian water pool. At every turn, the Cook Islands will impress you with their beautiful landscaping and laid-back atmosphere.
If you do decide to check out New Zealand, it's not an unreasonable distance from the Cook Islands. You can even find a fair amount of beautiful coastal cities. The city of Rotorua, for example has a wide array of beautiful beaches and lakes that are great for weekend visit and interesting enough for anyone to take a long excursion there. Staying in Rotorua is easier than ever with hotel reservation resources like Expedia. It may seem tedious searching for a hotel before going on a watery adventure, but the process is surprisingly simple, letting you explore the world stress-free.
Chill Out in Barbados
With a year-round temperature of 78 degrees, seventy miles of translucent beach waters, palm-adorned beaches and lively nightlife, Barbados is the ideal destination to relax with a refreshing, tropical rum concoction right in hand. Ju Ju's Beach is one of the most popular areas and is located on the west coast. There are catamarans right on the beach, and you can head out to snorkel the reef and swim with turtles. You can also rent lounges and umbrellas from Ju Ju's Beach Bar and enjoy some great grilled fish. Other beautiful beaches include Miami, Sandy Lane and Accra Beaches.
Barbados is chock-full of sightseeing opportunities. Perched in the peaceful town of Bathsheba, the Andromeda Botanical Gardens is a tropical delight. Bougainvillea, colourful orchards and palms dot the pathways and gentle streams. It also offers a panoramic vista of the gorgeous Bathsheba coastline. At the Barbados Museum in St. Michael, you can discover the history of the island's African roots and culture. There are also a number of galleries displaying African art, military artefacts and archaeological finds. From sunrise to sundown, Barbados is sure to provide you with the perfect holiday haven.
Beach It in Jamaica
From east to west and north to south, Jamaica is laden with silken sands and crystal clear waters. At Doctor's Cave Beach and Seven Mile Beach, not only do you get to enjoy pristine surroundings, you're also never far from live reggae music and spiced jerk pork delights. Both beaches offer rentals for umbrellas, chairs and water sports equipment. You can even book a glass-bottom boat tour right from the beach. Treasure Beach is off the beaten path and is a tapestry of four fishing villages and dark sand beaches that stretch for almost six miles. In addition to the picturesque backdrop of the Santa Cruz Mountains, you'll find a wide array of charming guesthouses and beachfront cottage rentals.
St. Lucia
Whether you're seeking adventure, rejuvenation or relaxation, St. Lucia is a perfect destination with palm-fringed beaches, miles of unspoiled rainforests and breathtaking waterfalls. Enjoy an exotic cocktail while lounging under a thatched hut on the beach, take a horseback ride on the coastline or hike the mountains. On the north end of the island in the Rodney Bay area, you can kite-board, book a sea tour or scuba dive. Most of the resorts provide opportunities for sunfish sailing, water skiing and windsurfing.
No matter which beachside paradise you select for your holiday, having the right travel insurance will ensure a stress-free journey. You'll have peace of mind knowing that you're protected, should you lose any important possessions. With the many online insurance sites, you can compare insurance for travel and select the best option that meets your needs.